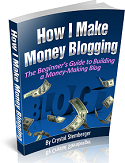 If you are new to this blog, you aren't alone. I am too! Although I have several other blogs that I write for and administer, both by myself and with my husband, I am really late to the party with a personal finance blog. That may seem a bit strange, since I am a licensed Certified Public Accountant. It seems like finance and budgeting would be native language to me.
And they are.
So, why didn't I start a personal finance blog a long time ago? I think the main reason I didn't was that there are already so many excellent personal finance bloggers, I felt like my little "me too" voice would get lost in the wilderness, since I am very new and there are so many.
And maybe it will.
So, why me and why now? There are a couple of reasons.
For one, I have been following Crystal Stemburger at Budgeting In the Fun Stuff for several months, and the detailed income and expense reports she used to provide in the blog to track her success drew me like a bear to honey. (Due to some rude readers, she is no longer comfortable publicly providing that information in as much detail, but for me, that's OK. I got the gist of it the first time she wrote about it – she's a success!)
And then, there's my friend Wendy, of The Budget Professional. Besides just being a friend I know in person, Wendy is a very accomplished writer and extremely well versed in the tax and finance arena. She has a long history of internet marketing, writing, and is, well, just an awesome person! I mentioned Crystal's blog, Wendy looked at it, and that's when things started popping. Crystal was looking for new bloggers to mentor, Wendy volunteered, and together with four other bloggers, they are working through Crystal's plan as detailed in Crystal's new book "How I Make Money Blogging: The Beginner's Guide to Building a Money-Making Blog."
So, just in case you see something either here or there you don't like, feel free to blame Crystal and Wendy! :-)
Since I already knew that Crystal was successful, I wasted no time picking up her ebook and and reading it from beginning to end. It's a relatively short book (printed, about 32 pages, and yes, I did print it). While Crystal is chatty in her blog, I think she pared the book down so people could get the information they need and want without wading through a bunch of personal information and asides. As a result, she has produced a book that is very utilitarian without being dry and boring. (Although the question arises: who would be silly enough to be bored when someone's telling you step by step how to be successful as an internet marketer?)
Topics Crystal covers are
Choosing a name, a host, and a platform
The basic elements of a successful blog
Search boxes: who needs 'em (answer: you do, and she tells you why!)
Disclosures are important
How to get traffic, with a slightly different and refreshing take on SEO
Essential plugins
Ads and how to get them
Tracking your efforts
Other ways to get blogging income
Crystal finishes up with a numbered and detailed action plan that will tell you exactly what to do and how (and when) to do it, followed by some additional suggestions on how to get help if you need to outsource some of your work.
There are many things I like about How I Make Money Blogging. Among them are the fact that it is:
Concise
An easy read
Interesting (who doesn't like reading about how to make money?)
Not a sales gimmick to get you to buy a bunch of extras
Short, sweet, and to the point: no hyperbole!
Covers all the really important things you need to know
There are also a few things that I think could be improved in future versions:
This book needs to go on the Amazon platform to get wider distribution  Update:  I just heard from Crystal – the book IS on Amazon, but in a very basic format.  The original purchase from the link on this page includes an Excel spreadsheet that shows you how to keep track of all your work. It's excellent and makes all the difference between just the book and the book with a true-life example of how-to!
At $27.00, the price is a bit higher than what you normally see for this type of book (but keep reading for a discount!)
While it's impossible to detail all the plugins available, there are some pretty useful ones she doesn't mention. I would recommend a wider range of plugins and a description of how they're used.
Since the book is relatively new, Crystal has generously offered a $10 discount to anyone who purchases her book during the month of August, so the total price is $17.00 instead of the original $27.00. Use the code "thankyou10" at checkout. After the end of August, the price will rise to its normal $27.00.
   To Recap:
The book is for beginners, but has instructions that help even a seasoned blogger get a better handle on the money-making process
It's written clearly and doesn't have a bunch of extraneous junk – just the facts, ma'am
Ok, this isn't a recap of something I said previously, but the truth is that this book has made me want to do even BETTER and work more efficiently on my own blogging efforts
Buy This Book! You won't be sorry (but if for any reason you are, Crystal will give you a no-nonsense refund!)
(As a reminder, I have an affiliate relationship with Crystal on this book. However, if I didn't like it, I wouldn't risk my reputation just to get a few bucks!)